Today's top health stories: 12 January
---
January 12, 2015
NHS patients to be offered self-referral cancer tests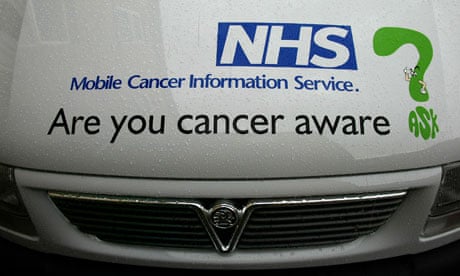 As part of the NHS's target to diagnose 10% more people with cancer at its early stages than in 2014, patients are to be given the option of booking referral appointments directly with hospitals and testing units instead of first visiting a GP.
The NHS believe that a 10% increase in early stage cancer diagnosis would mean that the number of patients alive five years after diagnosis would increase by 8,000.
As well as introducing self-referral bookings to patients, other NHS initiatives under the same scheme are:
Tests for different types of cancers at the same time and day of original appointments
Fast-tracking of patients through community pharmacists when cancer symptoms are suspected and ongoing
GPs to send patients for cancer tests without having to first refer to a cancer specialist
Source: BBC News, The Independent
National Obesity Forum warn that treating obesity could 'break the NHS'
In a bid to slow the increasing cost of obesity on the NHS, the National Obesity Forum has stated their desire for annual weight monitoring of every adult.
Obesity costs the NHS £45 billion per year, with the National Obesity Forum warning that the costs could 'break the NHS'. In the last two decades obesity levels have doubled, with 67% of men now overweight or obese. This week is also National Obesity Awareness Week.
Highlighting the obesity epidemic in Europe and the Western hemisphere, last week the American Medical Association voted to classify obesity as a disease.
Sources: The Daily Mail, Prevention
WHO: e-learning for doctors and nurses as effective as traditional training
The World Health Organization has advised that electronic education for some healthcare professionals can be just as successful as face-to-face education. It is hoped that the WHO's approval will go towards encouraging more people to train in healthcare, helping to plug the 7.2 million shortfall of healthcare professionals worldwide.
The study, conducted at Imperial College London, found that distance learning and electronic education enables greater access to teaching. However, barriers still exist at places where electronic media and the Internet are not regularly available.
Source: Reuters