Waiting times in England A&Es lengthening
The latest waiting time figures for A&E are the worst since records began in 2010, with all of the past four weeks being the worst ever for waiting times.
Although the NHS target 95% of all patients entering A&E to be seen within four hours, last week's figure reached only 86.7%. The recent slump has meant that more than 16,000 patients had to wait between four and 12 hours for treatment.
Healthcare workers have noted that a strain of flu not affected by the seasonal vaccine is causing an influx of extra A&E admissions. Last week at least 17 hospitals felt pressure so great that they needed to take extra measures, such as cancelling operations or turning people away.
Sources: BBC News, The Telegraph 
First ever privately-run NHS hospital "no longer viable"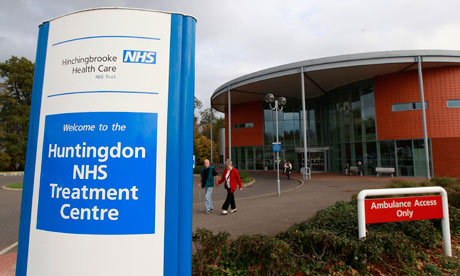 Circle Holdings, the first company to privately run an NHS hospital, has announced that its control of Hinchingbrooke Hospital is "no longer viable under current terms".
According to their website, Circle Holdings boasts the largest partnerships of doctors and nurses in Europe. The company has suggested that an unprecedented rise in A&E patients is part of the reason that they can no longer run the hospital. However, Circle Holding's announcement has surprised some, as current NHS pressures have been building for some time.
The Care Quality Commission recently visited Hinchingbrooke Hospital and is expected to publish their report of the hospital in the near future.
Source: BBC News
UK cases of Flu at a three-year high
Building upon current NHS pressures, UK flu levels are at a three-year high. Senior healthcare professionals are currently calling on those groups vulnerable to flu to get the seasonal flu jab. Despite the already high figures, health officials are warning that the number of flu cases is still set to rise.
Last week there were 12.1 flu consultantations out of every 100,000 GP visits. Figures also show that over 70% of over 65s have received the flu jab this year.
Source: The Telegraph